I had trained all summer for the 50K World Championships on September 1. I got myself into extremely good shape, but wasn't able to race due to getting ill just beforehand. Frustrated, I started thinking about what I could do with my fitness and, after a few discussions with my coach and agent, we came up with the plan to target a fast race at Berlin Marathon on September 28.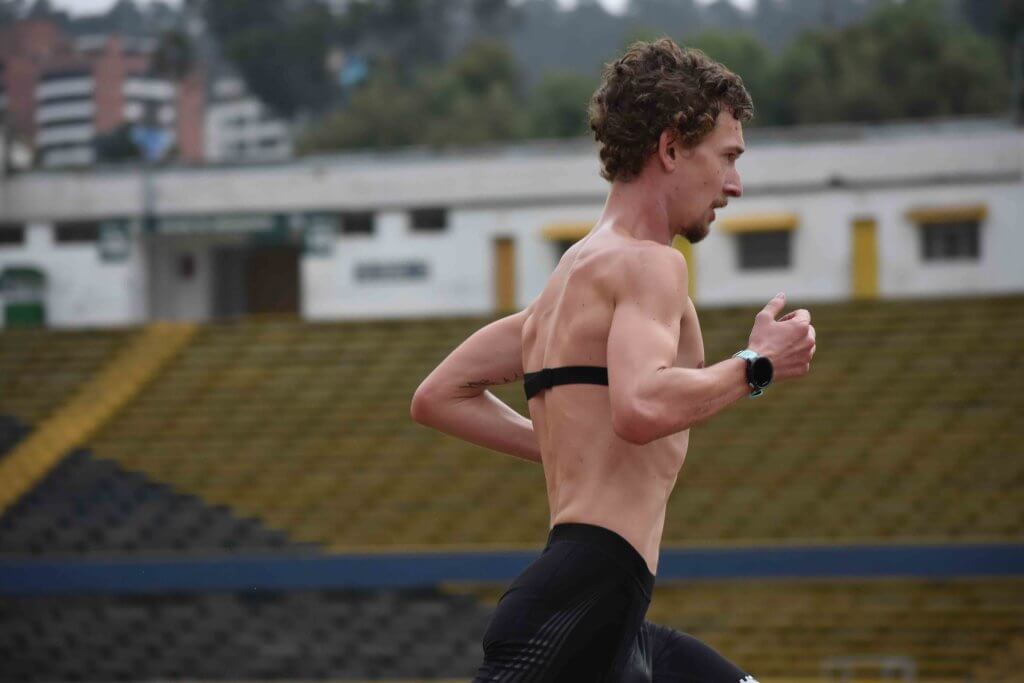 This workout was really my test session for Berlin. I only wanted to commit to the race (and flying all the way back to Europe for the second time in a month) if I knew I was ready to run well. With just two weeks until race day, I decided to try to run a half marathon at goal race pace. I'd originally planned to go do this at the Philadelphia Half, but it was just too much travel in the month to squeeze it in. So, being a control freak, I decided to do the run in the one place that I knew would be 100% accurate: around the 400m track just down the street from my house.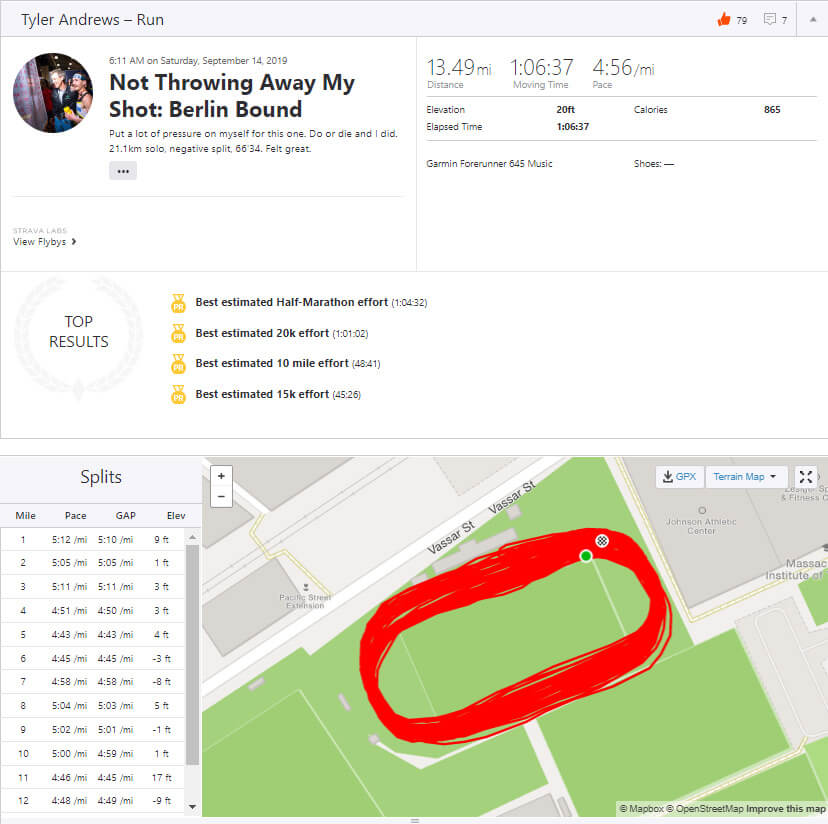 HOKA: What did the pre-workout warmup look like? Did it follow your typical routine?
ANDREWS: I try to practice everything in training that I'll do on race day, so my warm-up for this run was very similar to what I'd do for the marathon: about 2K of easy jogging, some light drills, a few strides, and then about 200 meters at race pace. The only thing notable about this warmup was that I'd just gotten back from Europe and was a bit jet-lagged (and nervous for this session), so I woke up around 4:00am and started the warmup around 5:00am under a giant full moon. Lovely to have the track empty just for me (and the bunnies), though!
HOKA: What shoes did you use?
ANDREWS: I used the Carbon X for this run. As I mentioned above, when I have an important workout, I want to practice everything I'll do on race day and that includes getting used to running in my race shoes. The Carbon X just feels fast and perfect for the marathon. It was love at first step for me and the Carbon X, so it's definitely my go-to racer for anything long and on the roads.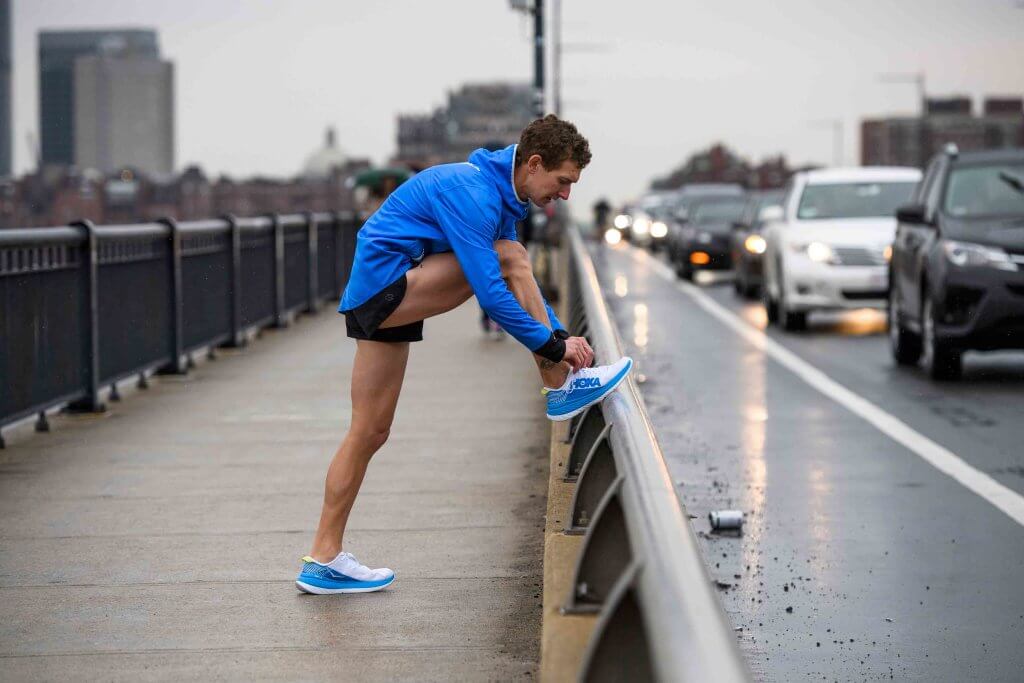 HOKA: Did you have any mantras you used during this work out?
ANDREWS: The one word I tried to focus on was "relax". I knew that with the short warm-up and feeling a bit rusty going into this one that the first few kilometers might be slower than I'd want to average and might not feel fantastic, but I also knew that if I could just stay relaxed and let my body warm up and get used to running the pace, I'd find my rhythm. This is basically exactly what happened as I started off a bit slower for the first 3K or so and then found myself clicking off 1K splits of 3:08-3:10 for basically the rest of the run.
HOKA: Did you go through any rough patches? How did you push through them?
ANDREWS:  Honestly, beyond the start, not really. The point of this run wasn't to go to the well, but simply to prove to myself that I could at least handle going through half-marathon in around 67 minutes. I guess, mentally, it required more fortitude just because I'd put a lot of pressure on myself and this was a real "do-or-die" type session. I knew that if I ran well, it meant I'd go to Berlin. And I also knew that if I couldn't, it would mean shutting things down and that I wasn't able to salvage anything from the huge amount of work I'd put in building up to 50K Worlds. I basically had spent the last week thinking about this exact run, even more specifically, about the last 10km or so of this run, and so getting to that point was both a moment of anxiety and also a moment of relief: Okay, here it is; let's see what we've got.
HOKA: Tell us about your nutrition during this workout.
ANDREWS: Again, practice makes perfect, so I did the same thing I would in the first half of a marathon. I took 2 Maurten gels (1 about 15 minutes before starting and 1 at 30 minutes) and then I drank Nuun (a small amount as it was cool) every 5K.
HOKA: How often did you change directions? Why?
ANDREWS: I switched directions every 5km. Mostly just to give my body a break from make 100+ left turns. The 5Ks made it easy to compartmentalize each quarter of the workout as well
HOKA: How does this set you up for Berlin? What are your goals going into this race?
ANDREWS: It sets me up about as well as I could have hoped for. I had originally hoped to run 67:30 in this session, so to be able to run a fairly relaxed 66:34 makes me really excited to see what I can do in Berlin. People go there to run fast and I know of at least one other runner (Jameson Mora, another HOKA athlete), who is hoping to go out at about 67:30 and negative split to run under the US Olympic A Standard (2:15:00). I'm really long overdue for a marathon PR (my PR is from 2016) and I've gotten myself super fit a few times over the last few years but have either had bad luck in races, gotten injured, or been training for longer races and unable to reach my potential over 26.2 miles. This is the first time that I feel 100% healthy and really fit going into a marathon in a while. I can't wait.
Share some Strava kudos with HOKA Athlete Tyler Andrews as he gears up for the Berlin Marathon on Sunday, September 29th in the Carbon X.