Catwalk in comfort: How designer Hillary Taymour made HOKA runway ready for New York Fashion Week
Designer Hillary Taymour created Collina Strada with a bigger dream than just starting a clothing line. She aims to encourage self-reflection through clothing, asking, "How can you be the best version of yourself today?" For Hillary, this means spreading awareness for social issues through creative expression and staying true sustainable practices for her brand. 
For her Spring 20 line, Hillary was inspired by a "Grandma Garden Party". The venue was transformed into a Farmer's Market to celebrate sustainability. Models of all ages and backgrounds walked the runway in bold colors. Some were even adorned with radishes or cucumbers in place of makeup. 
If you look closely, you might even recognize some familiar silhouettes on models' feet. Hillary carefully embellished the HOKA Gaviota Leather and Ora Recovery Slide with beads, paint and deadstock fabric for the show. 
We sat down with Hillary to learn more about her inspiration behind the design of these shoes.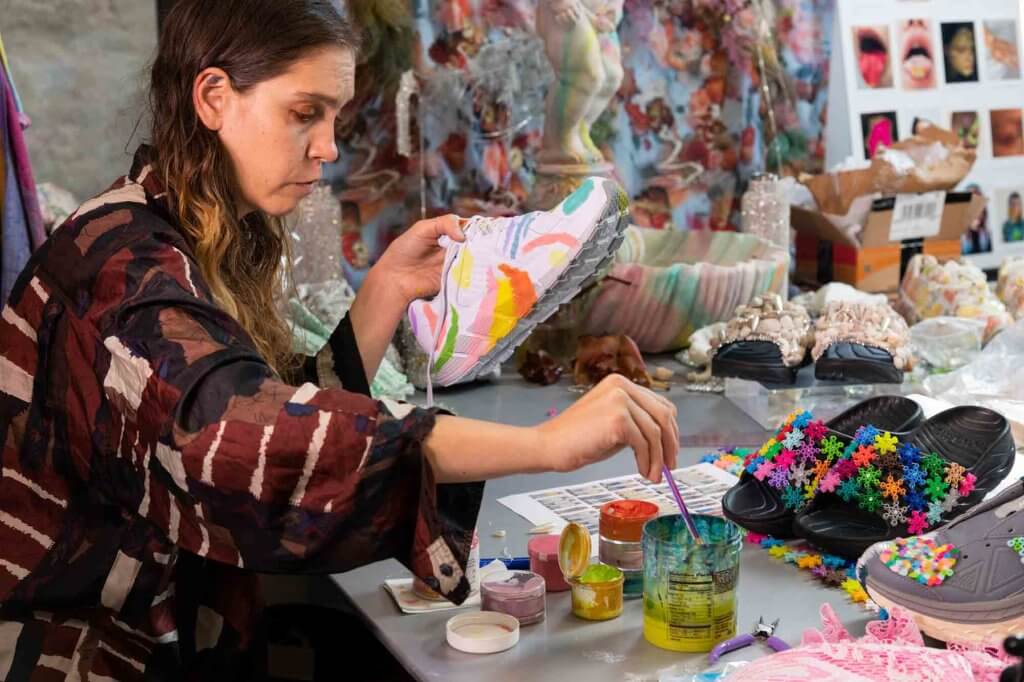 HOKA: What drew you to HOKA? What stands out to you about the styles you chose? 
TAYMOUR: I love the comfort level of HOKA – it's insane.  I've never worn a more comfortable shoe and it's hard to wear anything else now. 
HOKA: How were you initially introduced to HOKA? 
TAYMOUR: I was initially introduced to HOKA through friends who were huge fans and it really just evolved from there. 
HOKA: What inspired this collection? 
TAYMOUR: I wanted to make fun and loud clothes that were all rooted with sustainability in mind.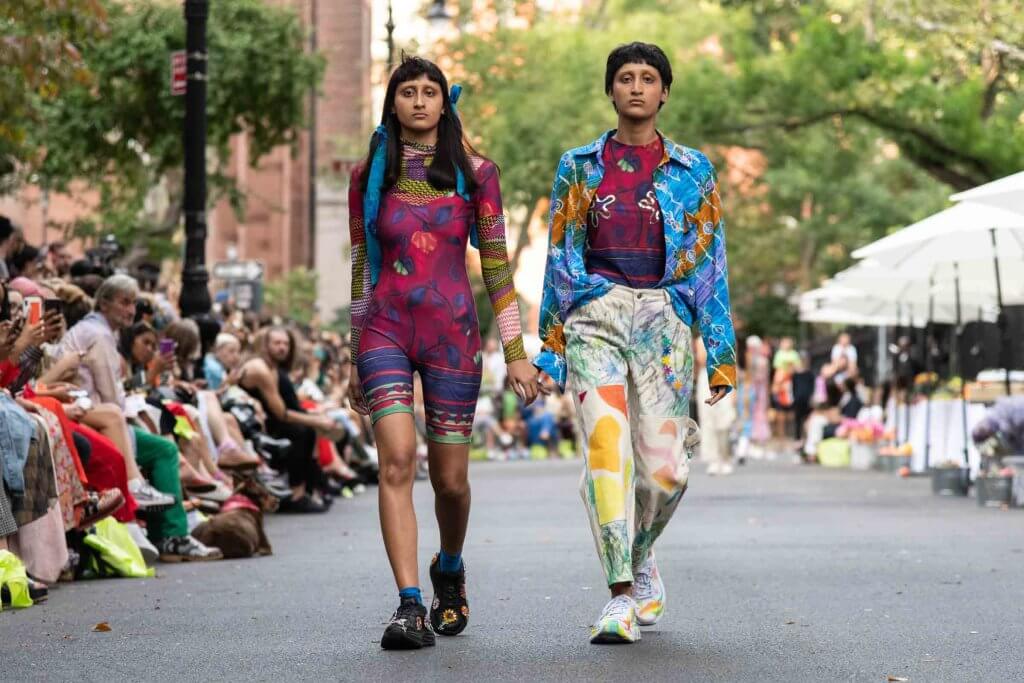 HOKA: How do you weave your passion for sustainability into your designs? 
TAYMOUR: I chose deadstock fabrics that spoke to me in some way.  I try to make everything into something that I myself or my friends would wear. 
HOKA: We noticed you have all types of people represented in your shows. How do you find your models? 
TAYMOUR: I look everywhere for my models.  Some are friends and family — some I find on the street or Instagram. There are no rules. It's important to show that clothes can be for everyone and not just a hanger model. 
HOKA: You've embellished the shoes with lots of fun items. How do you decide what to use? 
TAYMOUR: I really wanted them to look like your grandma's house during the summer. And what do you do at Grandma's house? Crafts!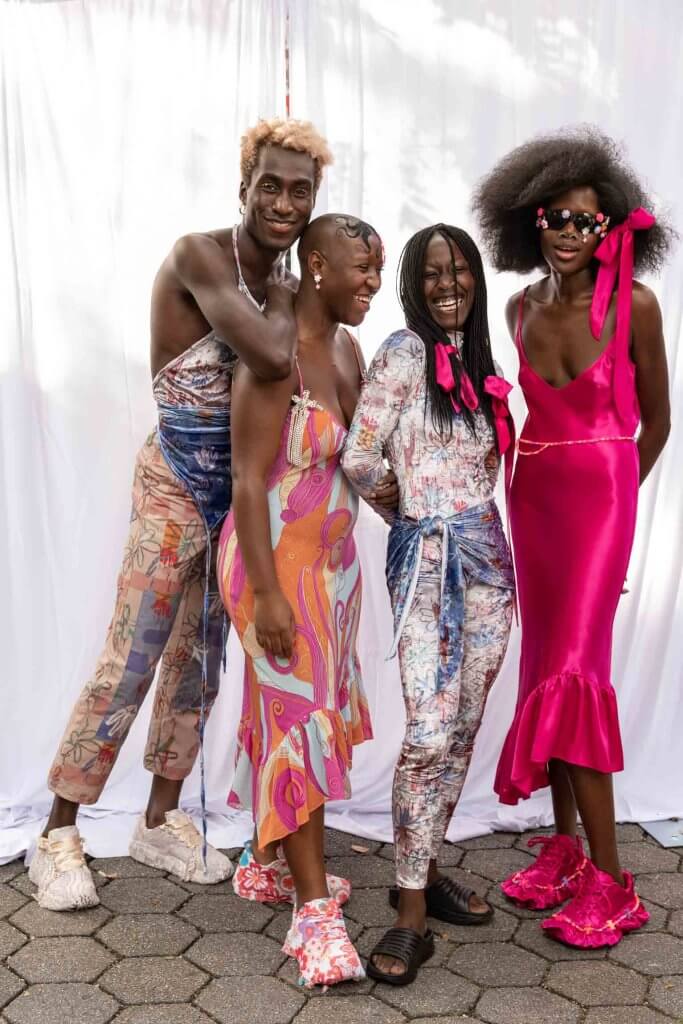 HOKA: Which HOKA piece took the longest to create?  
TAYMOUR: We covered some with lace and ruffles and pearl beads which took a long time to place around the edges. The rhinestone shell slides took a while too — everything was individually placed. They looked amazing! Everything felt very 'Grandma Garden Party'. 
HOKA: Which HOKA piece was your favorite to create? 
TAYMOUR: My favorite to create were the ones I hand painted. I love the act of painting – it's very relaxing.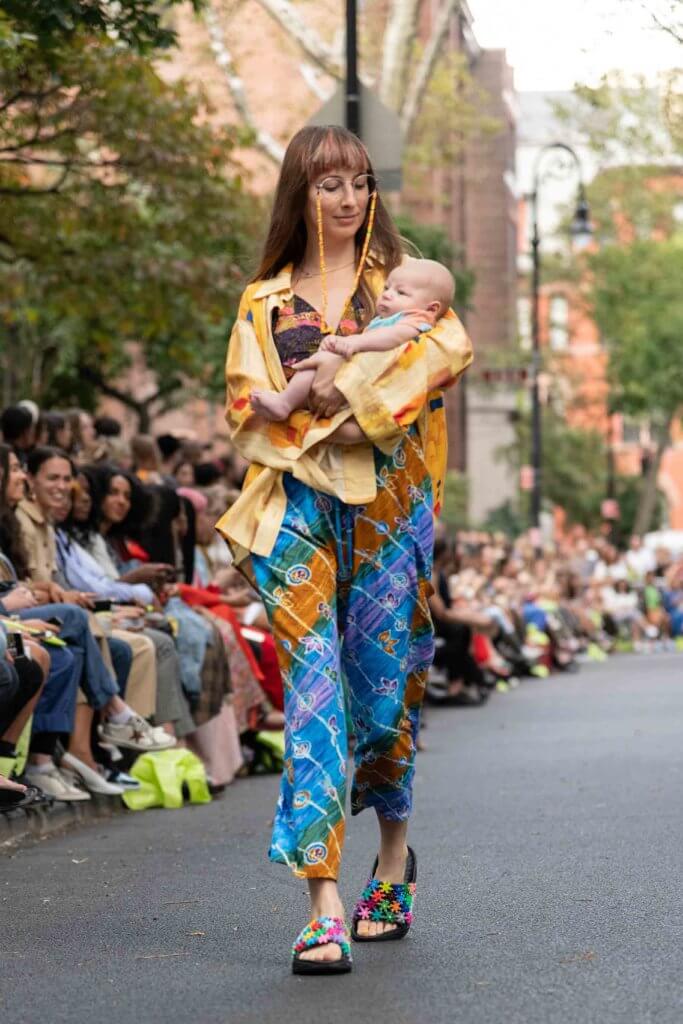 HOKA: Why do you think we are seeing more running shoes on the runway lately? 
TAYMOUR: I think comfort is so important. Fashion is ultimately about function, so running shoes are here to stay. 
Shop the Gaviota Leather here and the Ora Recovery Slide here.